Interactive Sciences is currently helping to expand the computer center and library at Robinson Rancheria in Northern California.
We are also helping with other computer centers and libraries at Native American sites in the United States.
Robinson Rancheria Computer Center
The Robinson Rancheria Computer Center is run by the Robinson Rancheria Band of Pomo Indians. It is located near the northeast shore of Clear Lake, east of Ukiah, California, and about 130 miles north of San Francisco.
Tribal members and the outside community use the Rancheria Computer Center for classes, individual learning, research, e-mail access, and general applications. Interactive Sciences and Mendocino College each offer courses at the computer center, on topics such as introductory computer use, web site creation, game programming, Word, Excel, and PowerPoint.
The center has high-speed Internet access, modern versions of Microsoft Office computer programs, a webcam and digital camera, a scanner, laser printing, CD-ROM burners, color printing, and a variety of educational software titles.
| | |
| --- | --- |
| | Plans for the computer lab began back in the summer of 2000. One challenge was how to provide fast Internet access to all of the computers. We considered various satellite services but decided that the best option was to use the cable modem service of the local cable company (MediaCom). Here, on the big installation day in October, two cable trucks arrived to help bring the cable line into the new education building. |
Gateway, Inc. provided discounted new computers with a full complement of business software and easy-to-read monitors. Everything was supposed to arrive the day before installation .. but things never go quite as planned. It took two trips for the United Parcel Service driver to deliver all of the computers.

On her left, you can see the tribal headquarters building that overlooks the entrance to the rancheria.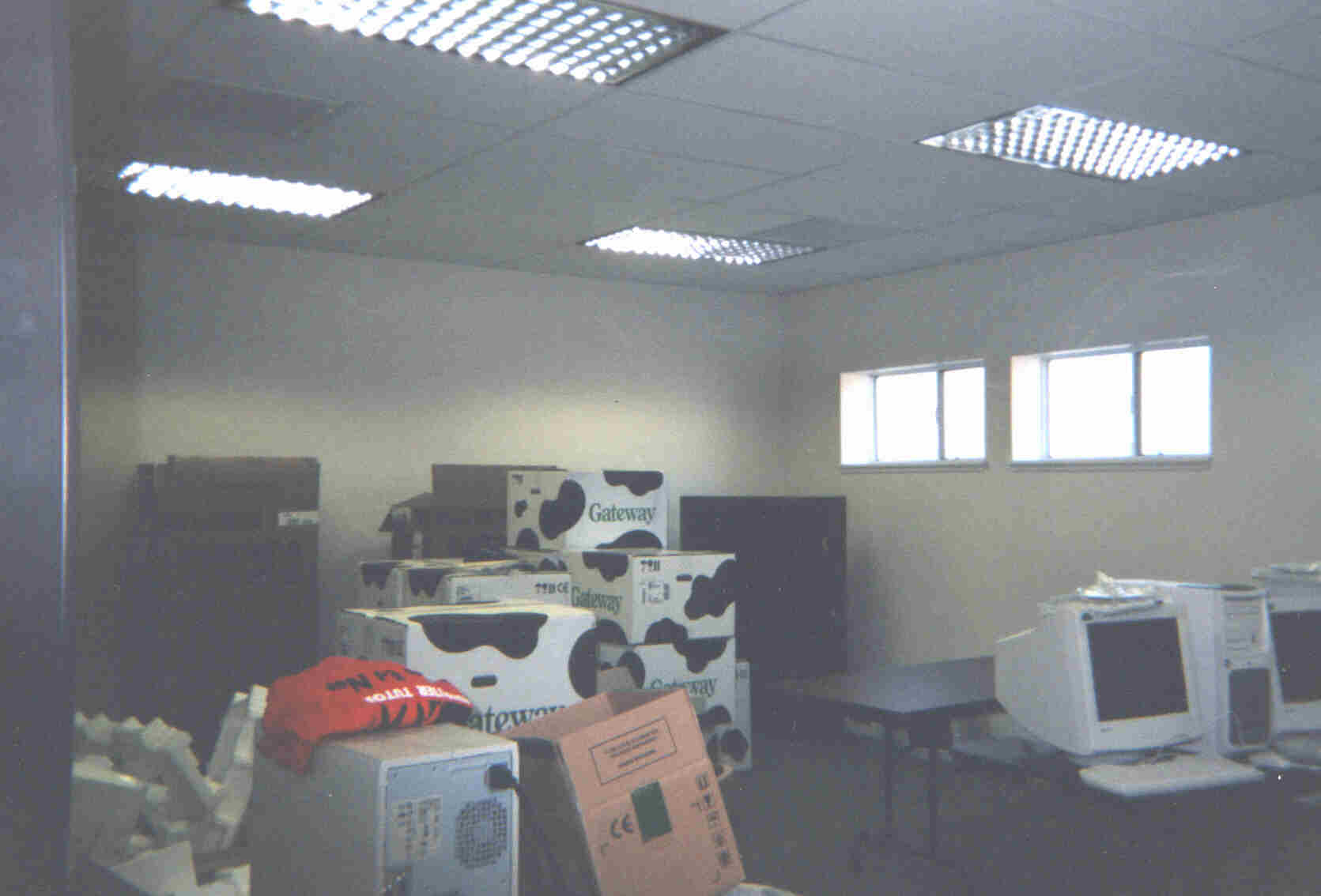 The new computer lab quickly filled with boxes, as we struggled to pull out all the computers and monitors and set everything up for testing.
| | |
| --- | --- |
| Every computer had to be initialized specially for the Internet connections. About 20 computers in the new building are linked via a 100 Mbit switched Ethernet, and share laser and color printers, web files, and the link to the external Internet. | |
| | |
| --- | --- |
| | In one class, students used Microsoft Publisher to make greeting cards. The cables on the back wall go to a video projector in the window well for group presentations. |
Interactive Sciences also provides computer assistance to individuals and other organizations on the reservation.
Learn more about Robinson Rancheria at its own site.